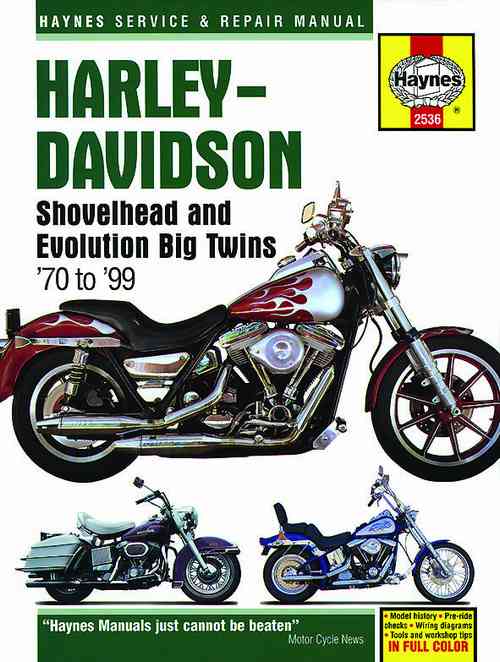 Harley-Davidson Shovel & Evo Twins '70 -99. Haynes.
Description
Harley-Davidson Shovelhead and Evolution Big Twins'70 -99. Haynes HM#2536.
Workshop Manual covers:
1200 FL: FL, FLH, FLHS, 1970 to 1980
1200 FX: FX, FXE, FXS, FXEF, 1970 to 1980
1340 FL: FLT, FLTC/U, FLH, FLHF, FLHR, FLHS, FLHT, FLHTC/U, 1978 on
1340 FXR: FXR, FXRS, FXRS-SP, FXRS-CONV, FXLR, FXRD, FXRT, 1982 on
1340 FX/Softail: FXB, FXD, FXE, FXDG, FXDL, FXDWG, FXDS-CONV, FXEF, FXS, FXSB, FXWG, FXST, FXSTC, FXSTS, FLST, FLST-SP, FLSTC, FLSTF, FLSTN, 1979 through 1999
1340 Dyna: FXD, FXDB, FXDC, FXDL, FXDS-CONV, FXDWG, 1991 through 1998
Repair Manual Highlights
Model history and Pre-ride Checks in colour.
A complete step-by-step guide to servicing and routine maintenance.
Engine and transmission – servicing and overhaul.
Fuel and ignition systems explained.
Cooling system – checks and remedies.
Suspension and steering – adjustment and overhaul.
Braking system – safety checks and repairs.
Electrical system – fault finding and repairs.
Comprehensive colour wiring diagrams.
18 page Tools & Workshop Tips section in colour.
Fault finding checklist and equipment to pinpoint specific problems.
Fully indexed to help you find information easily.
Step-by-step instructions
clearly linked to hundreds of photos and illustrations guide you through each job.
Spanner ratings
Haynes Hints and Tool Tips
Reference sections
Publisher Code: HM2536
ISBN 10: 1563925362
Dimensions: 210x280mm, 270 pages.
Illustrations: Hard Bound, colour and b/w ill