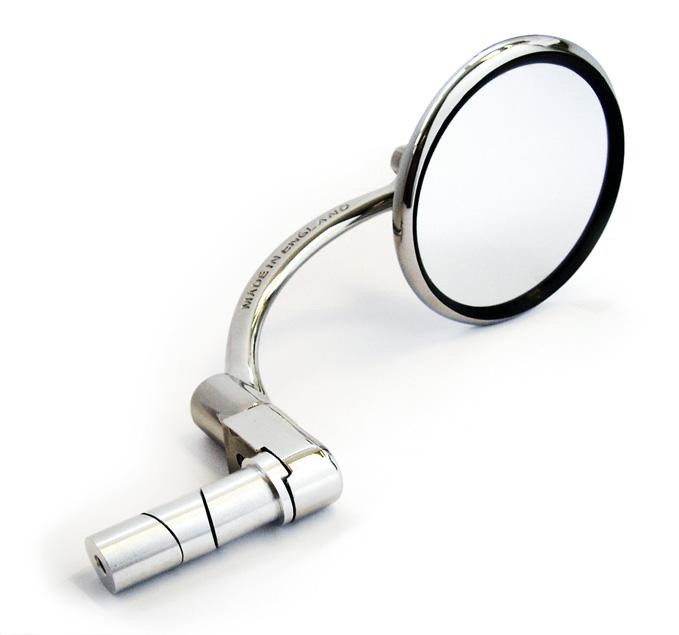 HALCYON 830 Bar End round
Description
Halcyon continues to manufacture this bar end mirror, which was once manufactured by Stadium, in the UK. It is one of the only replica mirrors that is not mass produced overseas, and because of this, it represents a far greater quality product than what you will find elsewhere.
The mirror is 100% Stainless steel to prevent corrosion over time, the curved arm attaches to a knuckle and is tensioned with a spring to allow you to crank the mirror around so that it can be easily repositioned for parking your motorcycle in tight spaces. The round mirror head has a domed screw on the rear and swivels around to allow for fine adjustment .
The new expanding fitting is suitable for hollow handlebars ranging from 7/8″ to 1″ in diameter with an inside dimension of between 17.5mm and 21mm. The 3 piece angled tensioner sleeves create a far more secure and re-usable method of fitting.
Mirror head diameter total 100mm (4″).
*Universal LHS/RHS application.
Please note these mirrors are a universal fitment designed for HOLLOW 7/8″ bars or 1″ bars. Any other application can be used but will need modification.
For Triumph Bonnie/Thruxton and T120, please order appropriate adapter (sold separately).
PRICE IS FOR 1 MIRROR.
Available on backorder