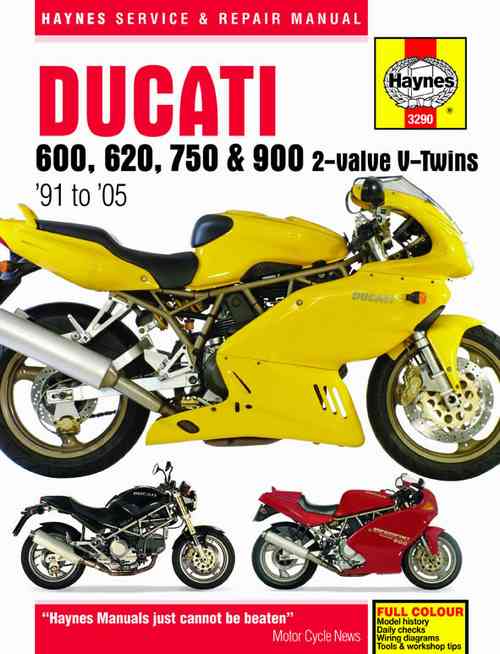 Ducati 600, 620, 750 & 900 2-Valve,1991 – 2005. Haynes.
Description
Ducati 600, 620, 750 & 900 2-Valve V-Twins 1991 – 2005. Haynes #3290
Repair / Workshop Manual covers models:
600SS Supersport 583cc 1994-1997
620S Sport 618cc 2003
M600 Monster 583cc 1994-1996
M620 Monster 618cc 2002 – 2005
750SS Supersport 748cc 1991-2002
M750 Monster 748cc 1991-2002
900SS Supersport 904cc 1991-2002
900SL Superlight 904cc 1992-1997
M900 Monster 904cc 1993-2002
All Dark, Sport and Special Editions included.
Servicing, overhaul & repairs
Engine and transmission
Fuel and ignition system
Suspension and steering
Braking system
Electrical system
Full colour sections
Model history and Daily checks
Wiring diagrams
Tools and workshop tips

Step-by-step instructions – clearly linked to hundreds of photos and illustrations guide you through each job.
Spanner ratings. Grade all tasks by experience level — from simple servicing jobs for beginners through to more difficult tasks for the expert.
Haynes Hints and Tool Tips
give you valuable "inside" information such as ways of removing parts without using special tools.
Reference sections
18 page Tools and workshop tips
Security
Lubricants and fluids
Conversion factors
Storage
Fault finding checklist and Fault finding equipment to pinpoint specific problems
Fully indexed to help you find information easily
Publisher Code: HM3290
ISBN 10: 1859602908
Dimensions: 210x280mm
Illustrations: Hard Bound, colour, b/w ill