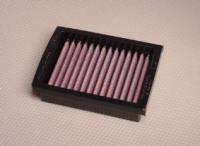 DNA freeflow air filter. MOTO GUZZI. V7, Breva, Nevada.
Description
DNA Freeflow air filter.
MOTO GUZZI. V7, Breva, Nevada. (V7 Classic/Cafe/Racer to 2012). – Air filter under fuel tank model.
The DNA High performance air filter is a high quality next generation multi-layer cotton gauze oil impregnated air filter. The filter media is made of 4 layers of high quality NAFTA surgical cotton gauze specially designed by our R&D department. The cotton is sandwiched between two layers of epoxy coated Marine grade aluminium wire mesh, designed to last a lifetime.
The 4 layers of cotton and the two layers of wire mesh are pleated by state of art electronically controlled pleating machines to assure a very high quality of the final filtration media. The result of the special design and the Hi Tec manufacturing process is a filtration media that has very high flow rates, low restriction, superior dust holding capability, smoothes out the air flow stream and lasts a lifetime.
The oil that we use to impregnate the cotton is a very special grade developed by our R&D department after intense testing and produced by one of the world's best Oil Companies. This special oil is a very critical part of the filter and has the capability to produce a static charge to the cotton media and attract the entire dust particles that flow towards the filter, even the very fine ones.
DNA proudly introduce a filter that can last the life of the vehicle. High quality materials, Hi Tec manufacturing process, designs that meet OEM quality levels and very strict quality control, is the secret behind the DNA Air Filters and the factor that allows us to give a Lifetime Warranty!
Designed and manufactured in Greece.
(Moto Guzzi oem # AP8104242).
#P-MG7N07-01