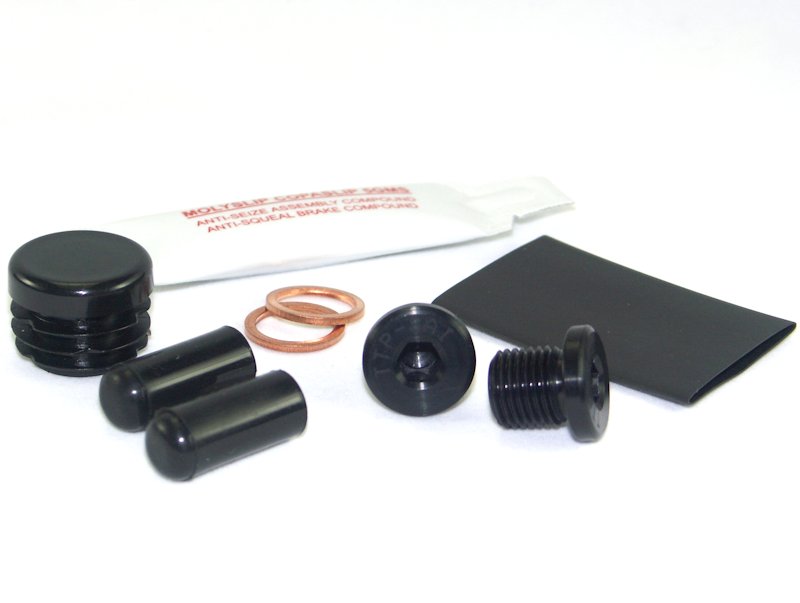 Air Injection Removal Kit. Triumph Twin Power.
Description
 Air Injection Removal Kit. Triumph Twin Power, for Triumph.
In BLACK or SILVER.
FOR CARB AND EFI.
The air injection system on the Bonneville/ Thruxton/ Scrambler is designed to clean up the exhaust but results in extra hot pipes giving blue chrome and backfiring.
Recommended SAI (Secondary Air Induction) removal to any owner of a Triumph classic twin who intends to modify their bike. If you install free flowing silencers and don't remove the SAI system, overrun popping will become more evident due to the reduced damping of the silencers. SAI removal also helps reduce header pipe heat discolouration caused by the higher temperature exhaust gas mix produced by the SAI system. The comprehensive TTP SAI Removal Kit has been designed with your bikes aesthetics in mind to be as unobtrusive as possible. It includes everything required to remove the SAI system from your classic twin and it's comprised of the following parts:
2 x billet aluminium low profile small head bungs in either black or silver.
(The small head design doesn't interfrere with spark plug removal)
2 x copper sealing washers.
1 x air box bung.
2 x vacuum take off caps (for carb models, 1 to use & 1 as a spare).
1 x heat shrink tubing to seal the SAI loom connector (for EFI models).
1 x sachet of copper grease to help reduce long term seizure of the bungs.
The SAI bungs are a high quality custom made part in billet aluminium, combining a low profile small head design with a robust 6mm socket for easy installation/removal. They are hard anodised in black or silver to ensure they look good for years to come.
Choose BLACK or Silver bungs.